Nutraceuticals
Nutraceuticals are products derived from food sources that are purported to provide extra health benefits, in addition to the basic nutritional value found in foods.


Protein : The Building Block of Life
Proteins are essential nutrients for the human body. They are one of the building blocks of body tissue, and can also serve as a fuel source. Protein is also important for growth and development in children, teens, and pregnant women.


Pronita

™

: Dietary supplement
Pronita
™
is dietary Supplement of nutrients, vitamins and minerals. It provides complete nutrition and source of energy. It plays a vital role in overall development and maintenance of your body.


Product Benefits:
Complete and Balanced nutrition.
Proteins of high biological value.
Delicious chocolate flavored.
Composition:
Composition Each 100gm of Pronita Contains: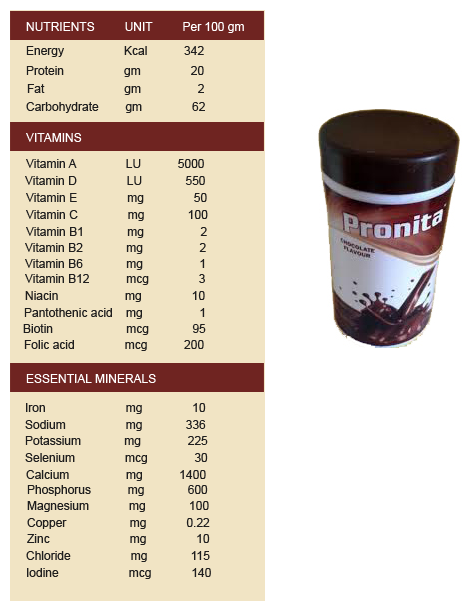 Overages added for loss on storage :
Pronita
™
is Ideal For: School going children, Expectant & nursing mothers, Older patients. Active persons like sports people, sick and convalescing patients.